the bottle
The eko3r system includes a bottle for recycling used cooking oil. The purpose of this receptacle is to help the public in the cooking oil recycling process. To this end, residents will be provided at all times with at least one of these bottles in their homes in which to deposit their used oil and, once it is full, they can exchange it for a clean one at one of the containers available in their municipality.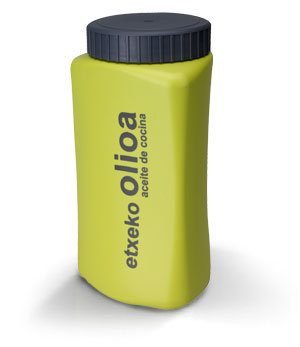 Furthermore, it is a modern receptacle that can be placed anywhere in the kitchen, either in the cupboard or on the worktop.
characteristics of the bottle
Reusable
Recyclable
Pigments without heavy metals
Sealed container
Withstands temperature (although it will lose its shape)
Leak proof
Resistant to impact
Security
Ergonomic design
Capacity of approximately 1 litre
Full display
Wide and watertight mouth
Illustration and Braille
why use our bottle?
The bottle is one of our key aspects; moreover, it is one of our strengths. Other systems accept all kinds of receptacles for depositing cooking oil. However, the washing process for each material is different and so in most cases the necessary level of cleanliness is not achieved for subsequent recycling of the container.
We have designed and placed in the hands of our residents a container that is repeatedly reused by users and, in approximately 4-5 years' time, it is recycled with the material being turned into secondary raw material for a new bottle. In this way, the end of life of one bottle is cyclically related to the beginning of another.
Furthermore, our bottle achieves 100% efficiency in the collection of oil, given that all of the oil poured into the bottle is recovered.
In fact, we promote and encourage the prevention and reuse of these bottles and their subsequent recycling, without harming the environment.