the container
Our used cooking oil container, olive green in colour and made of fibreglass, is designed to make the process of recycling cooking oil easier at all levels.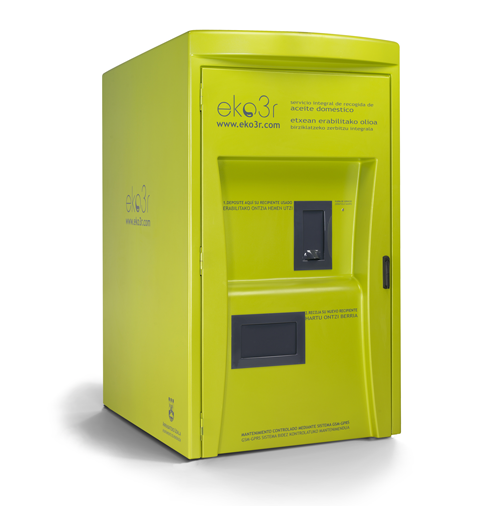 characteristics of the cooking oil container
Accessibility (containers for everyone)
Easy handling (electromechanical operation)
24-hour, 365-day service
In harmony with the environment
Capacity up to 200 receptacles
Exchange for clean receptacle
Out of service indicator (if full or out of order)
Record of receptacles collected and other associated indicators (litres of oil)
Highly vandal proof
Made from fireproof materials
Dimensions (width x depth x height): 1.2m x 1.705m x 2.09m
Panels can be personalised with the council's emblem
Harmonious shapes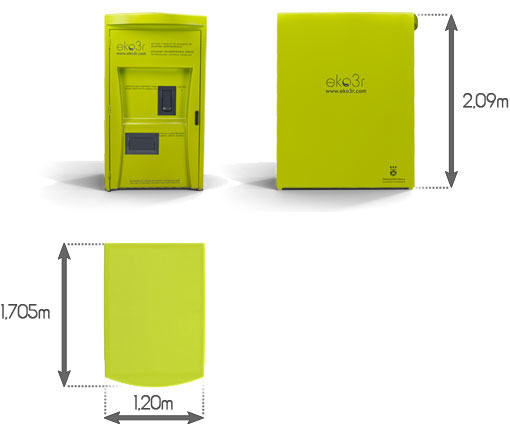 location of the containers
The containers are installed in flat locations to ensure that their internal mechanisms work properly. They can be installed on the street, in shopping centres or anywhere that is considered appropriate.
The container is anchored to the ground to prevent it from moving or tipping up, thus avoiding any accidents.
The point of installation must be easily accessible for both the general public and the collectors. Installations near roads, parks, etc. must be avoided.